Option Trading Strategy Results: 03-Feb-17 Weekly Expiration
For an explanation of our methodology, visit: https://marketchameleon.com/Blog/post/2016/09/09/option-trading-strategy-analysis-our-methodology
It was a tough week for buyers of volatility in the options market for the weekly expiration 03-Feb-17. There were some areas to find profits on the call side, but puts were dramatic losers once again.
Unhedged ATM Straddle positions returned winners 29.8% of the time, leading to an average loss for the strategy of -19.0%. For unhedged 25-Delta Calls, winners came in 23.5% of the time, but the strategy was breakeven on average. This came as the average winner had a return of +305.7%.
Winners were once again few and far between on the puts side. Unhedged 25-Delta Puts only returned winners 6.9% of the time (lower even than the previous couple weeks, when the win rate was 7.9% and 7.7%, respectively). The average loss for the position -66.8%.
Standouts
Under Armour, Inc. (UAA)
In our weekly earnings preview, we highlighted Under Armour as one of the notable players reporting quarterly results during the week. Implied Volatility for UAA had reached its highest level since April going into its report and recent post-earnings moves for the stock had outperformed expected moves by a significant degree.
This time around, Under Armour had another dramatic post-earnings response. The maker of athletic apparel reported lower fourth-quarter earnings and gave a disappointing revenue forecast for 2017.
On the news, shares finished sharply lower on Tuesday, falling $7.45 to $21.49 on strong volume. It continued to lose ground during the week, eventually closing out Friday's session at $20.70, reaching its lowest level since 2013.
The average return for unhedged 25-Delta Put positions for UAA was +1,321.6% for the week. For unhedged ATM Straddle positions, the average return was +235.6%.
UPS (UPS)
Another sharp earnings-inspired decline came from UPS. The package delivery firm reported a quarterly loss, hurt by a pension charge. Adjusted earnings were up from last year, but below what analysts had projected.
The disappointing results sparked a sharp sell off on Tuesday. The stock fell $7.90 on the session to close at $109.13. The stock extended its retreat through much of Wednesday's session, before stabilizing during the afternoon. The stock trimmed its weekly losses on Friday and finished the week at $106.96.
Unhedged 25-Delta Put positions for UPS posted an average gain of +1,333.7% for the week. The return for unhedged ATM Straddle positions was +261.3%.
Philip Morris International (PM)
On the other side of the ledger, Philip Morris International rallied sharply on its earnings report. The company's profit rose from last year on better-than-expected revenues, as Asian sales and new tobacco technology bolstered results.
The stock rallied sharply on Thursday following the release of the report and built on its gains during Friday's session. Shares finished the week at $101.10, reaching its highest level since September. The stock is up nearly 12% from mid-January.
Unhedged 25-Delta Call positions for PM had an average return for the week of +834.8%. Unhedged ATM Straddle positions had an average return of +138.7%.
Macy's (M)
Takeover rumors fueled a rally in shares of Macy's, which rose sharply on Thursday and Friday. The advance came amid reports that the company has received a buyout approach from Hudson's Bay Company. The New York Times, citing people briefed on the matter, said that negotiations were in the early stages and may involve a partnership rather than a sale.
Macy's rallied from a close of $29.21 on Wednesday to finish out the week at $32.69.
The average return for unhedged 25-Delta Call positions for M was +1,690.3% for the week. Unhedged ATM Straddle positions returned +321.8%, on average.
Hedging Comparison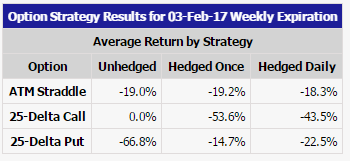 It was a mixed performance for hedging during the week. For 25-Delta Calls, hedging turned a breakeven performance into notable losses. However, for 25-Delta Puts, hedging cut losses significantly. It had little impact for ATM Straddle positions.
For 25-Delta Calls, single hedging created an average loss of -53.6% during the week. Losses were a little less steep for daily hedges, but this strategy still had an average loss of -43.5%.
For 25-Delta Puts, the average unhedged loss of -66.8% was cut to an average loss of just -14.7% with single hedging. It was -22.5% with daily hedging.
The return for ATM Straddle positions were little impacted by hedging. Unhedged, there was an average loss of -19.0%, compared to 19.2% for hedging once and -18.3% for daily hedging.
--
posted from the original: https://marketchameleon.com/Blog/post/2017/02/06/option-trad...