XLU And IYR: Rate Plays See Increased Action Amid Fed Uncertainty
Interest rates are the obsession on Wall Street lately, with uncertainty about the timing of rate hikes informing much of the recent trading in equities.
Two instruments that have been notably affected by the focus on interest rates: XLU and IYR.
XLU [$XLU] is an SPDR Sector Select ETF that tracks the utilities sector. IYR [$IYR] is an iShares Dow Jones U.S. Real Estate ETF.
XLU is a rate play because much of the investment in utilities stocks is related to their dividend yield. Changes in interest rates affect the relative value of those dividends. Real estate as an industry is very rate dependent because Fed rate changes have a direct impact on mortgage rates.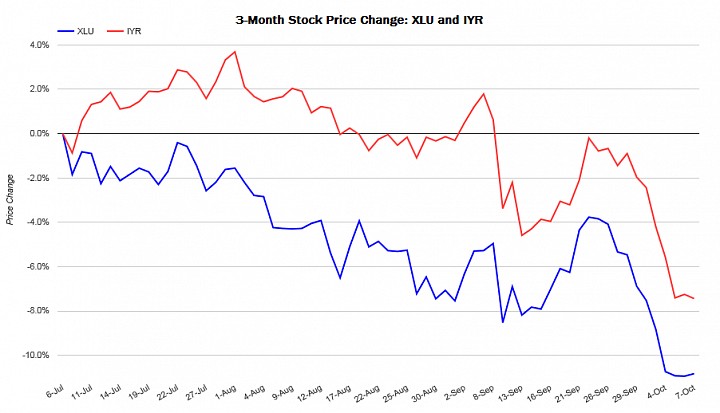 Lately, both ETFs have suffered sharp declines in price, falling to multi-month lows. Meanwhile, Implied Volatility has risen notably, especially for XLU.
The inevitability of near-term (or at least medium-term) rate hikes have dragged on XLU. Bond yields have risen steadily in recent months, from below 1.5% on the 10-year treasury in the middle of the year to over 1.7% now. This tends to depress demand for utility stocks, which benefit from their high dividend yields.
This has come in anticipation of rate hikes. There is still significant uncertainty about when the Fed will actually increase rates, but there is little doubt that a rate hike is coming.
Members of the Federal Reserve have been vocally pushing for a rate hike, with the most recent vote to hold rates steady coming with a rare three-vote dissention. While many Fed members would like to see higher rates, signs of weakness in the economy have repeatedly held them at bay.
This continued on Friday morning, when the government released uninspiring employment data for September.
The upcoming election has also delayed an increase in interest rates. Not wanting to be seen as political, the Fed typically holds off on major policy decisions during presidential election season. As the next Fed meeting in early November comes just a few days before the election, there is an exceedingly thin chance of a rate hike then, barring a dramatic event that would make an immediate rate increase unassailable.
As such, markets are pricing in a very low probability of a rate hike in November. However, a hike is perceived as likely at the Fed's December meeting.
The CME's FedWatch tool, which uses trading in Fed Fund futures to determine the likelihood of a rate hike at a given time, indicates a nearly 90% chance that rates will stay put on November 2, when the next Fed announcement is due. For the December 14 Fed announcement, the probability switches. Futures trading indicates a nearly 60% chance of higher rates by the end of that Fed meeting.
The prospect of an eventual rise in interest rates has pushed up Implied Volatility for utility stocks, while simultaneously dragging the price lower.
In mid-August, Implied Volatility for XLU reached the bottom of a recent range at a level of 12.0. It has been trending up since, closing at 18.3 on October 6, its highest mark since the first half of February, when it reached a mark of 21.9.
Meanwhile, the price for XLU has been declining sharply since September 23, part of a general downtrend that has taken it off a peak of $52.98 on July 6. It closed at $47.18 on October 6, its lowest finish since April.
A similar pattern has been seen for real estate.
IYR has also fallen to a multi-month low. From a peak close of $85.70 on August 1, the ETF has dropped to a close of $76.53 on October 5, its lowest level since May.
Implied Volatility for IYR has also been gaining lately, though not as dramatically as with XLU. It rose from 12.0 on September 22 to 18.9 on October 6, moving to the high end of a recent range.
The ATM Straddle premium for XLU is $1.02, or 2.2%, for the October 14 expiration. The November 11 expiration has a premium of $2.17, or 4.6%.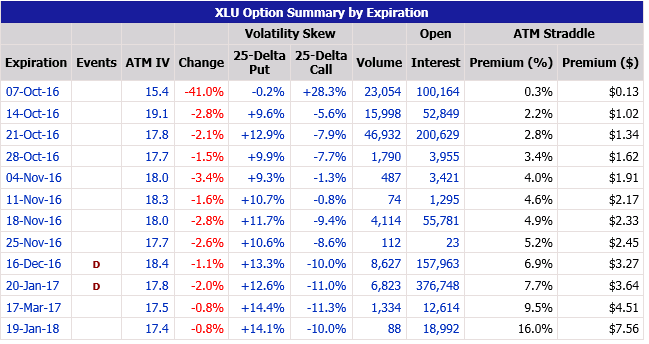 The ATM Straddle premium for IYR is $1.58, or 2.1%, for the October 14 expiration. For the November 11 expiration, the ATM Straddle premium is $3.78, or 4.9%.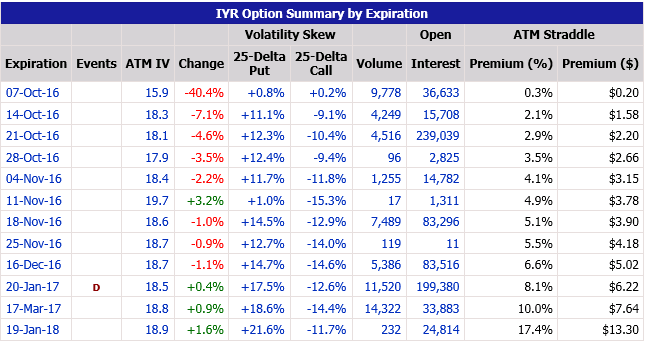 The jobs data released on Friday gives the Fed little incentive to hurry with a rate hike.
The government's employment report showed that 156,000 jobs were added in month, fewer than the 176,000 that economists had expected. The Labor Department also said the unemployment rate edged up to 5.0 percent in September from 4.9 percent in August. Economists had expected the unemployment rate to remain unchanged.
Job gains in August were upwardly revised to 167,000 from 151,000. However, the job growth in July was downwardly revised to 252,000 from 275,000.
For more information, visit the Option Summary page for XLU and for IYR on MarketChameleon.com
Source: https://marketchameleon.com/Blog/post/2016/10/07/xlu-and-iyr-rate-plays-see-increased-action-amid-fed-uncertainty