Option Trading Strategy Results: 20-Jan-17 Weekly Expiration
It was another tough week for buyers of volatility in the options market for the weekly expiration 20-Jan-17. For both 25-Delta Call and 25-Delta Put positions, losers outnumbered winners by a ratio of more than 11-to-1. Things were somewhat better for ATM Straddle positions, but those bets were generally losers as well.
Unhedged ATM Straddle positions returned winners 18.8% of the time, with an average loss of -36.3%. This was better than for the call and put side, with winners making up 8.1% and 7.7%, respectively, of unhedged 25-Delta Call and 25-Delta Put positions. The average loss for 25-Delta Call bets was -65.3%, while the average loss for 25-Delta Puts was -68.4%.
Hedging Comparison
In general, hedging was a successful strategy during the week, though the impact was fairly limited. For ATM Straddles and for 25-Delta Calls, both hedging once and hedging daily led to narrower average losses. In both cases, however, the impact was not dramatic.
For 25-Delta Puts, the hedging returns were a little more complicated. Single hedging widened the average loss slightly, while daily hedging cut the loss. However, as with the other strategies, the impact of hedging for puts was not overwhelming in either direction.
For ATM Straddle positions, single hedging reduced the average loss from -36.3% for unhedged bets to -35.9% for once hedged ones. Daily hedging improved this further to -32.6%.
For 25-Delta Calls, the unhedged positions returned an average loss of -65.3%. This was improved to -64.7% by hedging once and to -55.9% by daily hedging.
For 25-Delta Puts, the average loss for the unhedged position was -68.4%. This widened slightly for single hedged bets, turning into an average loss of -70.3%. For daily hedging, the average loss was -58.0%.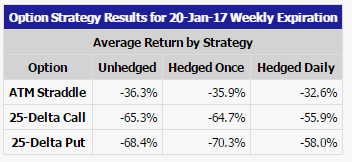 Standouts
Target ($TGT)
Target shares suffered a notable decline during the week after the retailer provided a disappointing forecast. The company also said its holiday period comparable sales were down 1.3% compared to last year.
With the weak sales, the company cut its earnings forecast for the fourth quarter. It said it now expected adjusted earnings between $1.45 and $1.55 per share, compared it its previous forecast of $1.55 to $1.75 per share.
News of the warning sparked a sharp drop in the company's stock price. Shares fell nearly 6% on Wednesday, the day after the news was announced. It continued to drift lower during the rest of the week, closing Friday at $64.07, down 8.7% for the week as a whole.
Unhedged 25-Delta Put positions for TGT had an average return of +1,865.2% for the week. Unhedged ATM Straddle positions returned +440.4% on average.
CSX ($CSX)
Shares of railroad operator CSX jumped on Thursday following the release of its quarterly results and reports that an activist investor is taking steps to shake up management at the company.
CSX reported quarterly earnings that fell from last year and missed analysts' expectations. However, the Wall Street Journal reported that Hunter Harrison, who is leaving his position as CEO of Canadian Pacific, is joining an activist investor in a move on CSX.
The prospect of a possible intervention by an activist investor drove shares of CSX higher. The stock rallied $8.63, or more than 23%, on Thursday to close at $45.51. It came off that mark slightly on Friday, but finished the week at $44.33.
--
posted from the original: https://marketchameleon.com/Blog/post/2017/01/23/option-trad...