Will Netflix Repeat Last Quarter's Double-Digit Earnings Move?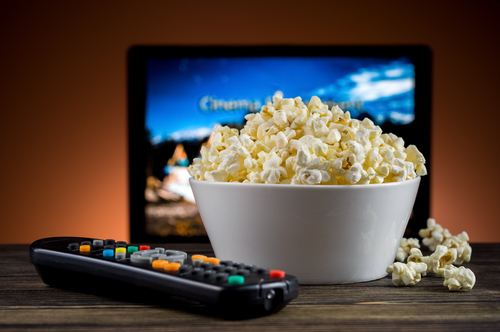 Netflix [$NFLX] is set to report earnings after the closing bell on Monday, October 17. Ahead of the earnings, Implied Volatility has risen to its highest level since early in the year. Meanwhile the At-the-Money Straddle Premium stands at a double-digit percentage for the nearest expiration following the earnings release.
This comes as the online movie service has proven itself to be volatile in the wake of earnings news. In the last quarter, shares plunged following the release of the financial report, despite earnings that nominally beat expectations.
For this quarter, Netflix is expected to see a downtick in its bottom line. Analysts are looking for the company to earn $0.06 per share, compared to mark of $0.07 per share in the same period last year. Even though the earnings might fall, revenue is expected to jump significantly. Analysts are projecting a top-line figure of $2.28 billion, an increase of more than 31% from last year.
However, the company's subscriber statistics will be as important as its bottom line in determining how the stock will move. This was apparent the last time the company released its earnings statement. Netflix reported increased profits that topped expectations. However, there was a slowdown in subscriber growth.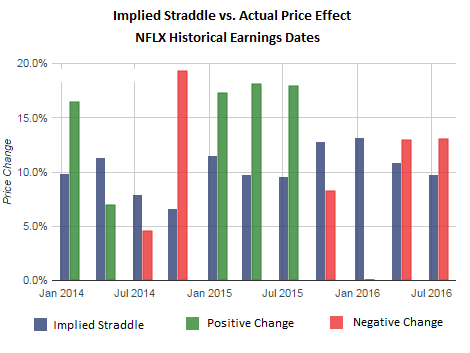 Netflix added 1.68 million subscribers globally in the quarter, ending the quarter with 83.18 million subscribers. This included just 160,000 subscriber adds in the U.S., where the market seems near saturation.
This prompted a decline in the stock. Following the release of the quarterly results, shares dropped $12.97 the following day, closing at $85.84, a drop of more than 13%.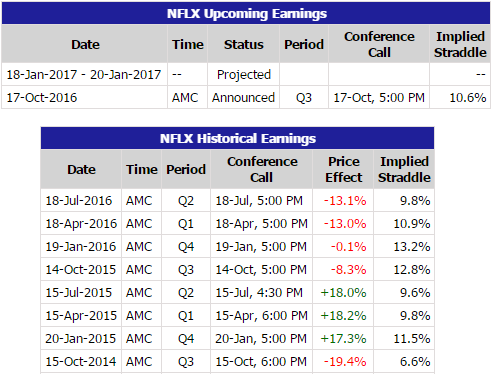 For more, visit NFLX's Earnings History page on MarketChameleon.com
From there, the stock price drifted up, including a notable boost in late September and early October.
This uptick was fueled by some buyout speculation. In early October, shares rose amid rumors that companies like Disney or Apple might be interested in the company.
Netflix rose to a close of $106.28 on October 5, its highest level since April. It has come off that level recently, slipping to a close of $100.23 on October 13.
Implied Volatility hit a low of 26.9 on August 22. Since then, it has been steadily climbing, closing at 63.7 on October 13. This marked the highest level since January.
For the October 21 expiration, the first following the earnings report, the ATM Straddle Premium for Netflix is at $10.60, or 10.6%.